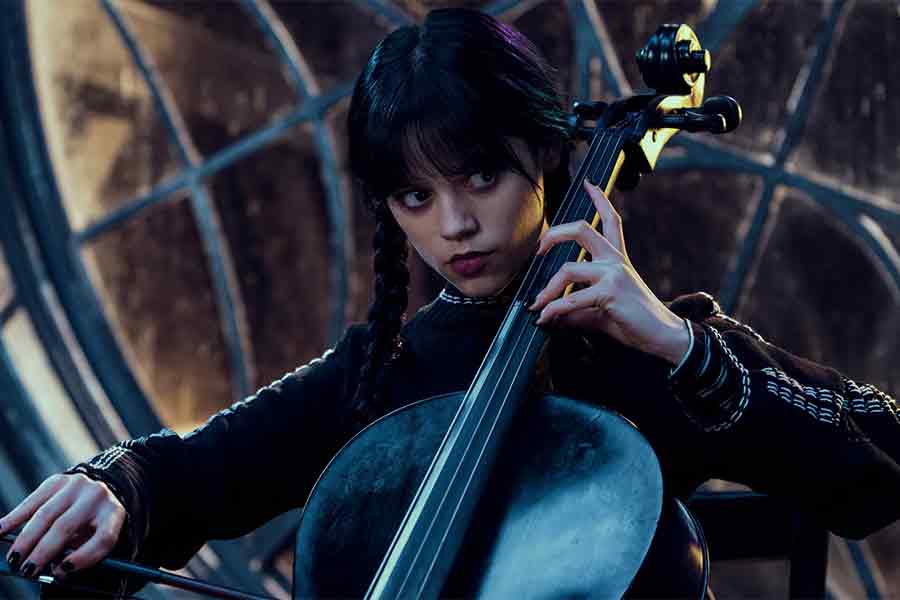 Netflix's Wednesday Review 
The Addams Family has seen a resurgence in pop culture recently with Illumination acquiring the rights to the iconic franchise, releasing The Addams Family and The Addams Family 2 in 2019 and 2021. The films sported less than positive reviews that worried fans of the classic films and comics that The Addams would no longer appeal to younger generations as big-budget studios like Illumination sought to modernize the morbidly unconventional family.
That all changed in 2020 when rumors were swirling that a new Addams Family project under the guidance of legendary director Tim Burton, was underway. Less than a year later, excitement rose to an all-time high as it was confirmed that not only was the series centering around arguably the most famous member of The Addams Family, Wednesday but that up-and-coming actress Jenna Ortega was playing her.
At just 20 years old, Ortega has risen to prominence for her various roles in various genres. From Netflix's drama You to A24's horror film X, Ortega never fails to encapsulate the essence of her character and enhance the overall viewing experience with her undeniable presence. Her portrayal of Wednesday Addams is no different.
The 8-part series now streaming on Netflix follows Wednesday and her group of outcast friends navigating the haunting halls and surrounding town mysteries of Nevermore Academy. Despite her best efforts to distance herself from her new school, Wednesday finds herself not only at the center of a murderous plot but at the gates of unfamiliar territory for our wicked heroine; being a normal teenage girl.
Love triangles, friend drama, a bloodthirsty monster on the loose, and villainous secrets lurking in the past of a small town all lead to Wednesday's determination to discover the truth and confront her own flaws to save the Nevermore community.
Wednesday has inspired massive community engagement mainly attributed to the shipping aspect. The show also reached the astounding number 3 spot out of Netflix's most streamed shows falling right behind Stranger Things 4 and Squid Game.
Aside from the trivial yet guilty pleasure nature of the series's love triangle and the mystery element, the selling point of Wednesday truly is Jenna Ortega and her masterful take on a beloved character.
Her line delivery, stature, and ability to provide the heartless, death-obsessed character with emotional depth speak to her immeasurable talent and leaves audiences curiously awaiting her next project with vivid excitement.
The series being derived from The Addams Family universe also feature its fair share of Easter eggs and visits from other members of everyone's favorite villainously entertaining family.
Luis Guzmán and Catherine Zeta-Jones deliver deliciously diabolical performances as Morticia and Gomez while Fred Armisen surprises audiences with himself almost unrecognizable as the electrifyingly devious Uncle Fester.
The show also features Christina Ricci who most memorably played Wednesday in the 90s films in a prominent role in the series as well as the elegant and gracious Gwendoline Christie as Nevermore's dedicated headmistress.
As for new characters entering the Addams universe, Emma Myers plays the pleasantly perky, antithesis of Wednesday Enid Sinclair, a werewolf who's determined to show Wednesday the wonders of friendship much to Wednesday's dismay.
Hunter Doohan and Percy Hynes White play Tyler and Xaiver, Wednesday's respective love interests while Joy Sunday graces the screen with fabulous, unforgettable makeup looks as conniving queen bee siren Bianca Barclay.
One of the few characters who doesn't seem to completely annoy our cold-hearted heroine is Eugene Otinger played perfectly by Moosa Mostafa. Eugene not only captures the fleeting sympathy of Wednesday but will make audiences fall in love with him as well even though his screen time is limited.
While there are plenty of elements to enjoy, Wednesday does, unfortunately, suffer from the affliction that it is a teen show on Netflix and cannot escape a few out-of-place scenes and unnecessary plot conflicts, some of which that will surely leave viewers scratching their heads.
A few character motives in particular seem either underdeveloped or overshot. However, the show does do a good job of establishing the rules of this world and the stakes do feel high even if Wednesday being the title of the series has some shining plot armor. At least we can expect a number of twists and turns in regard to the standings of other characters.
As for the world we are immersed in, Nevermore is the perfect melding of Gothic Americana, a genre Tim Burton has mastered over the course of his career. Particularly Enid and Wednesday's room being split down the middle makes for some awe-inspiring cinematography.
The sleepy yet sinister surrounding town of Jericho features a number of spots that solidify that small-town feel from the Weathervane cafe to the haunting antique shop that supplies the dress Wednesday wears in her iconic dance scene that Jenna Ortega performed while battling Covid-19.
Aside from a few threads that don't quite string together and jumbled pacing at times, Wednesday is a scary-good watch with relevant social commentary lightly weaved into the plot that doesn't feel heavy-handed, unlike some other Netflix titles.
It's refreshing to see a flawed female protagonist who recognizes these discrepancies but doesn't apologize for them as Wednesday serves as a role model for the inner outcast in all of us and for generations to come.