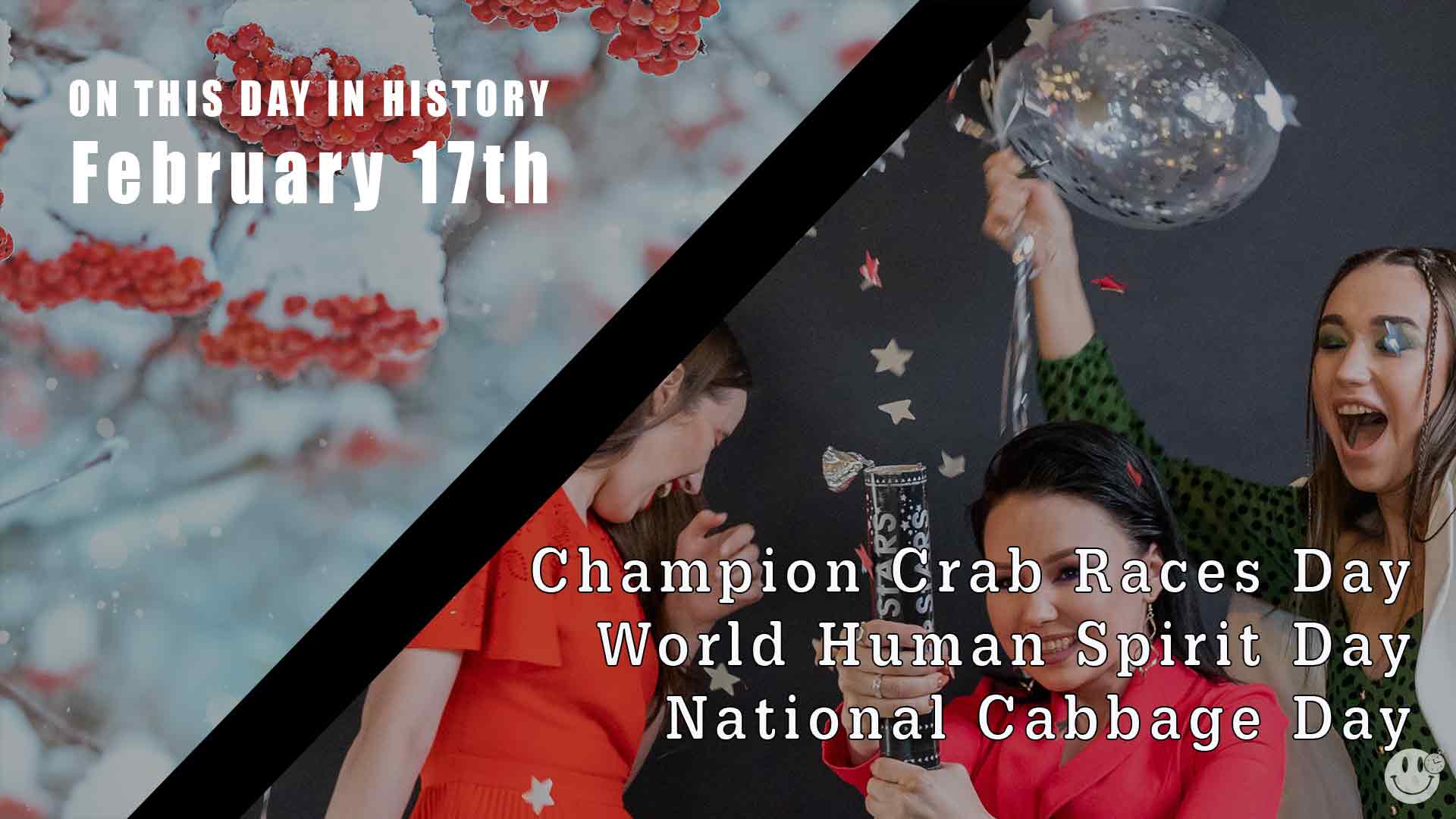 February 17 in Pop Culture History
February 17th is…
Cafe Au Lait Day: Café au lait is a French classic. The exact origin of Café Au Lait is not clear, but it is widely believed to have originated in France during the 19th century. The drink has been a staple in French cafes for decades and is now popular worldwide. In France, Café Au Lait is traditionally made with equal parts of strong coffee and warm milk and is often served in a large bowl rather than a cup. The drink became popular in the United States during the 20th century, often referred to as a "coffee with milk" or a "latte." Today, Cafe Au Lait is widely available in coffee shops and cafes worldwide and is a delicious and comforting beverage enjoyed by millions of people.
National Cabbage Day is a time for individuals and organizations to celebrate this humble vegetable and how it contributes to a healthy diet and sustainable agriculture. This can include sharing recipes and cooking demonstrations, promoting the benefits of cabbage, and highlighting local farmers and growers who produce this important food crop. Whether enjoyed raw, cooked, or fermented, cabbage is a delicious and nutritious food that deserves recognition and celebration on National Cabbage Day.
Champion Crab Races Day: Celebrating the beloved crab and its racing heritage and raising charity money.
World Human Spirit Day is a simple yet powerful way to positively impact one's own well-being and connect with others who share the same goals. This can include practicing mindfulness and meditation exercises, spending time in nature, participating in community events, or simply reflecting and appreciating the present moment. By participating in World Human Spirit Day, individuals are reminded to prioritize their own well-being and to engage in self-care practices that can help them feel more content, relaxed, and fulfilled in their daily lives.
My Way Day: A day to celebrate individuality, uniqueness, and self-expression.
PTA Founders' Day: The National Parent Teacher Association (PTA) has its roots in the National Congress of Mothers, which was established on February 17, 1897, in Washington, D.C. The organization was founded by Alice McLellan Birney and Phoebe Apperson Hearst and was formed due to a meeting of over 2,000 individuals, including parents, teachers, workers, and legislators. This gathering was an important moment in the history of American education and advocacy for children, as the attendees came together to discuss the challenges and opportunities facing families, schools, and communities. Over time, the organization has evolved and grown, and today the National PTA continues its mission of advocating for children and families across the United States.
Public Science Day is a three-day event occurring annually from February 17th to February 19th. This holiday was established in 1989 by the American Association for the Advancement of Science (AAAS), to promote public awareness and engagement with science. The event provides an opportunity for the scientific community to engage with the public and highlight the importance of discussing and addressing emerging scientific issues that affect our world. This includes highlighting breakthroughs and advancements in various scientific fields and providing a platform for discussing science and technology's ethical and social implications. The AAAS also works to encourage young people, particularly girls and underrepresented groups, to pursue careers in science and technology, and provides educational resources to help foster a lifelong love of learning and discovery. 
National Random Acts of Kindness Day was created to encourage people to spread kindness, compassion, and generosity in their communities. The idea behind the holiday is that small acts of kindness can have a big impact and that by performing acts of kindness, people can make a positive difference in the lives of others and the world as a whole. Whether you perform a single act of kindness or participate in a larger event, National Random Acts of Kindness Day is a day to celebrate the power of kindness and to spread positivity and light in the world.
Who Should I Be Day is aimed at helping people discover who they really are. It serves as a reminder to focus on your own opinions and values when forming your identity rather than relying on the opinions of others. Today, people reflect on their likes and dislikes, strengths and weaknesses, and anything else that makes them unique. It's also a great opportunity to explore new activities or interests to discover what truly makes you happy. 
National Wine Day: A day to celebrate wine and appreciate all the hard work that goes into making it.
1621 – Myles Standish was appointed as the first commander of the English Plymouth Colony in North America.
1859 – Dmitri Mendeleev began creating what we now call The Periodic Table.
1904 – Giacomo Puccini's opera Madame Butterfly premiered at the La Scala theatre in Milan, Italy. It was one of the first worldwide pop culture event 'hits.'
1933 – The magazine Newsweek was published for the first time. In October 2012, it was announced that Newsweek would cease print publication on the December 31, 2012.
1933 – Blondie Boopadoop married Dagwood Bumstead in Chic Young's popular comic strip, Blondie.
1953 – Bwana Devil, an early 3D movie, was released in theaters.
1958 – Pope Pius XII designated St. Clare of Assisi the patron saint of television.
1959 – Vanguard 2 – The first weather satellite was launched to measure cloud-cover distribution.
1965 – Joan Rivers made her first guest appearances on The Tonight Show starring Johnny Carson.
1968 – The Naismith Memorial Basketball Hall of Fame opened in Springfield, MA
1972 – With the 15,007,034th Volkswagen Beetle coming off the assembly line, the VW Beetle broke the world car production record held for more than four decades by the Ford Motor Company's Model T was in production from 1908 and 1927.
1979 – A Prairie Home Companion premiered on Minnesota Public Radio.
1995 – Colin Ferguson was convicted of the 1993 Long Island Rail Road shootings and received a 200+ year sentence in jail.
1996 – In the final game of a six-game match, world chess champion Garry Kasparov defeated Deep Blue, IBM's chess-playing computer, and won the match, 4-2. But in 1997, Deep Blue defeated Kasparov in a rematch.
2001 – # 1 Hit February 17, 2001 – February 23, 2001: Outkast – Ms. Jackson
2009 – 368 US Television stations permanently shut off their analog transmission signals, becoming digital.