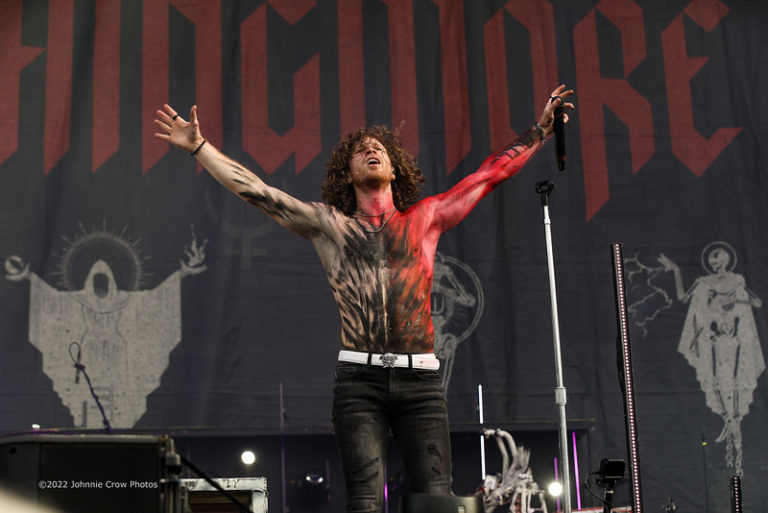 NOTHING MORE
ANNOUNCE HEADLINING "SPIRITS 2023" NORTH AMERICAN TOUR
PRESENTED BY MENTAL HEALTH NON-PROFIT
TO WRITE LOVE ON HER ARMS (TWLOHA)
WITH SPECIAL GUESTS
CROWN THE EMPIRE & THOUSAND BELOW
MARCH 31 – MAY 28
BAND SHARE LYRIC VIDEO VISUALIZERS FOR
'SPIRITS' ALBUM TRACKS
"DREAM WITH ME"
& "VALHALLA" 
Lauded as one of mainstream rock's most powerful and distinctive acts, 3x Grammy-nominated active rock group NOTHING MORE kick off the new year with two new lyric video visualizers for SPIRITS tracks "DREAM WITH ME"  and "VALHALLA" in addition to announcing their  "SPIRITS 2023" North American headlining tour.
The "SPIRITS 2023" tour will be presented by the mental health non-profit organization TO WRITE LOVE ON HER ARMS (TWLOHA). It will launch March 31 in Richmond, VA with special guests Crown The Empire and Thousand Below before NOTHING MORE split off for two solo headlining shows (May 6 in Phoenix, AZ and May 26 in Bloomington, IL), followed by a stop at Sonic Temple Festival in Columbus, OH on May 28. Additional tour sponsors include That Space Zebra Show and Parlor Root Beer; full dates can be found below.  Get your tickets now at https://nothingmore.net/tourdates.
 VIP MEET AND GREET PACKAGE includes:
Offered directly to you with no extra fees
Extremely limited availability
Available with show general admission ticket or as an upgrade
Augmented reality SPIRITS pin with exclusive VIP laminate, lanyard, SPIRITS type card set and commemorative box
Autographed poster
Includes hang out and photos with the band
Early entry into the venue with crowd-free merch shopping
"For the last 17 years, To Write Love on Her Arms has been finding ways to use live music as a means to connect people to local and affordable options for mental health care," relays TWLOHA's Director of Outreach Chad Moses. "In that time, we've been fortunate enough to see some of the very best examples where conversations of mental health have been expressed and received from the stage and in the crowds. We've not done this work alone—rather these conversations have been cultivated through active relationships with countless fans, music industry professionals, and artists. Within those ranks, Nothing More has proven to be among the most consistent and loyal friends to the organization, and that friendship grew in large part due to how they craft their art. When the band performs a song about mental health—or about hope, or about pain—they aren't treating the stage as a pulpit but instead as an invitation. What they have to say or sing finds its true value in how it is received by the listeners and how those fans choose to live out the next chapters. Simply put, Nothing More is what it looks and sounds like to feel a little less alone, and is proof that our deepest questions and challenges can be fertile ground for building community."
NOTHING MORE's 2022 album SPIRITS via Better Noise Music was inspired by the philosophy of Alan Watts and Carl Jung and an introspective look at the results on one's psyche after being isolated due to the pandemic. The album was accompanied by a meta- personality "SPIRITS TEST" designed by frontman Jonny Hawkins—similar to tests such as Myers-Briggs, Big 5 and the Zodiac—which results in finding out one's "Spirit Type," one of seven personality characters based on the test's results. Each "Spirit Type" is paired to a track on SPIRITS which the band have further highlighted with lyric video visualizers showcasing the artwork for the associated "Spirit Type." So far NOTHING MORE has unveiled the visualizer for "DREAM WITH ME" and  for "VALHALLA".
NOTHING MORE will further develop the story of these "Spirit Types" in their upcoming graphic novel "SPIRITS VOL.1" due this Spring via Z2 Comics. Pre-order a copy HERE.
Take NOTHING MORE's "SPIRIT TEST" and find out which "Spirit Type" you are paired with HERE.
NOTHING MORE TOUR DATES
3/31 Richmond, VA – The National #
4/1 Myrtle Beach, SC – House of Blues #
4/2 St. Petersburg, FL – Jannus Live #
4/4 Harrisburg, PA – HMAC #
4/5 Toronto, ON – The Danforth Music Hall #
4/7 Philadelphia, PA – TLA #
4/8 Worcester, MA – The Palladium #
4/9 New York, NY – Irving Plaza #
4/11 Evansville, IN – Victory Theatre #
4/12 Dubuque, AL – Five Flags Civic Center #
4/13 Clive, IA – Horizons Event Center #
4/15 Minneapolis, MN – The Fillmore #
4/16 Omaha, NE – The Admiral #
4/17 Denver, CO – Ogden Theater #
4/19 Salt Lake City, UT – The Complex #
4/21 Calgary, AB – The Palace Theater #
4/22 Edmonton, AB – Midway #
4/24 Vancouver, BC – The Commodore Ballroom #
4/25 Boise, ID – The Knitting Factory #
4/27 Seattle, WA – Neptune #
4/28 Portland, OR – The Roseland Theater #
4/29 Spokane, WA – The Knitting Factory #
5/1 Sacramento, CA – Ace of Spades #
5/3 Los Angeles, CA – The Belasco #
5/5 San Diego, CA – Observatory Northpark #
5/6 Phoenix, AZ – AK Chin Pavillion
5/26 Bloomington, IL – The Castle Theatre
5/27 Moline, IL – The Rust Belt
5/28 Columbus, OH – Sonic Temple
6/10 Nickelsdorf, AT – Nova Rock 2023
6/15-18 Clisson, FR – Hellfest 2023
6/21 Wetzikon/Unter-wetzikon, CH – Heavy Load Festival Wetzikon 2023
6/25 Bologna, IT – KNOTFEST Italy 2023
6/30 VIveiro, ES – Resurrection Fest 2023
(Photo: Jody Domingue)
FOLLOW NOTHING MORE
Website | Instagram | Twitter | Facebook | TikTok
Apple | Spotify | Deezer | Amazon | Pandora | YouTube
Nothing More "Spirits" 2023 North American Tour By To Write Love On Her Arms first appeared on Game On Media.