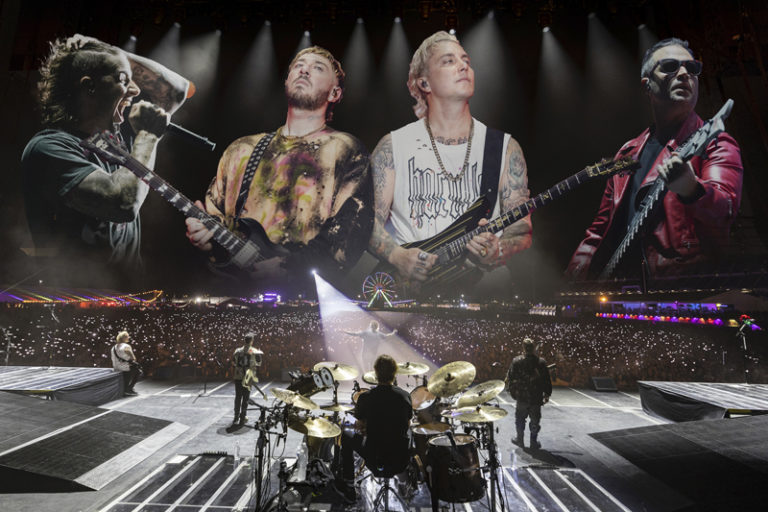 Welcome To Rockville continued to fill the Daytona International Speedway with heavy music and passionate fans on Friday, May 19, 2023.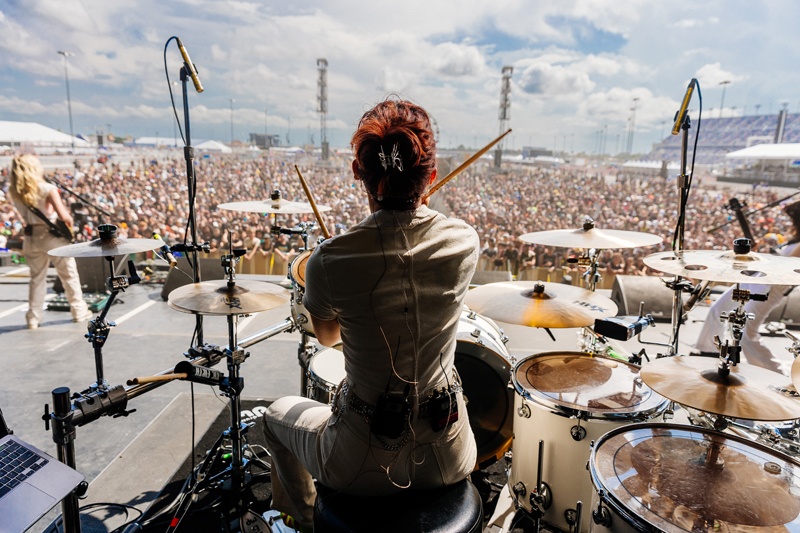 The Warning played a great set on the Space Zebra main stage. The Villarreal Vélez sisters from Mexico were dressed in white, a smart choice based on the oppressive heat during a daytime show. Lead singer Daniela even strapped on a white explorer guitar for their version of Enter Sandman, which Metallica had requested for the black album reissue. The Warning delivers a powerful sound from 3 small women.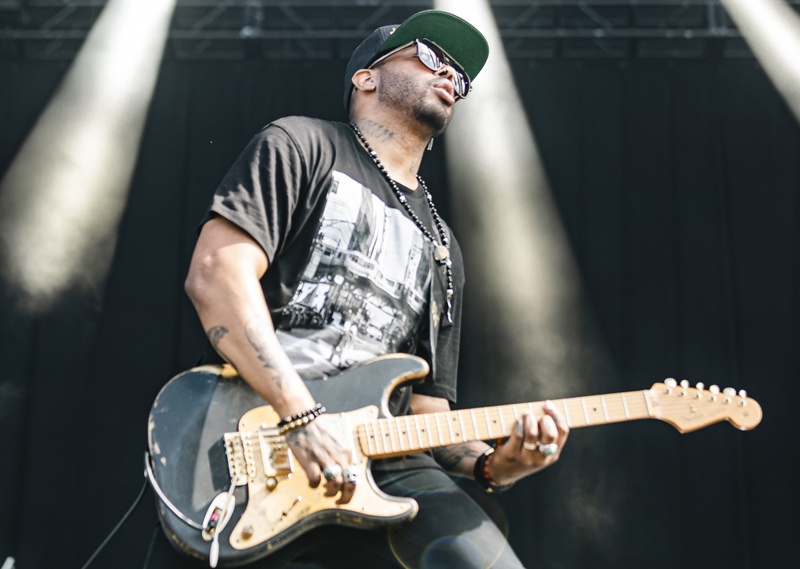 Ayron Jones was shredding along with his boys from the Puget Sound on the Octane stage. The only thing hotter than the sun beating down on the crowd was Ayron's hot licks. He played several new songs, along with his recent hits. Ayron told the crowd that he was there for the other outcasts, freaks and misfits.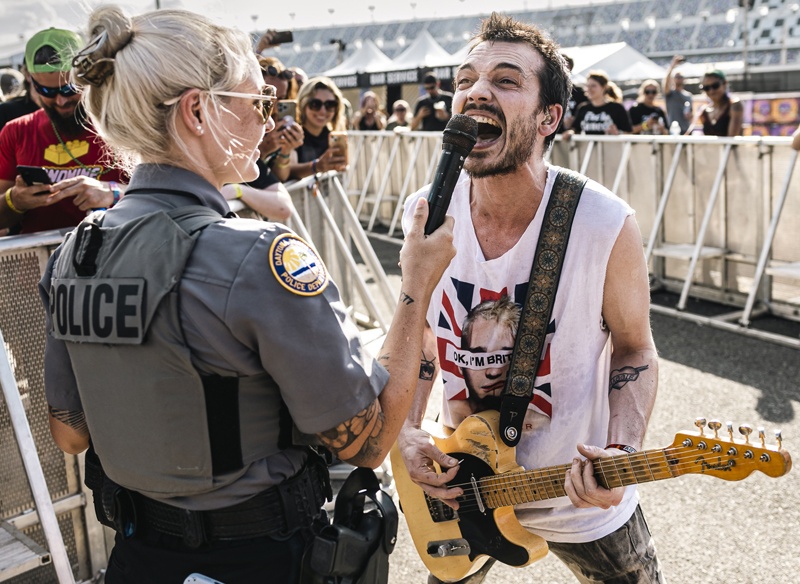 Badflower crushed their performance on Space Zebra main stage. They cleverly played "It's 5:00 Somewhere" as they walked on stage a little after 5:00. Josh Katz came out in a white cutoff T-shirt which parodied himself, and a pink beanie hat. Insanely, they were only given 30 minutes, so they tore through "Don't Hate Me", " Johnny Wants To Fight", "Heroin", "The Jester", "Ghost", "Stalker" and "30". Josh roamed the pits to get close to everyone. Fans sang along to every word. It was a phenomenal show which ended far too soon. This festival could be improved with fewer artists and longer sets for the bigger acts.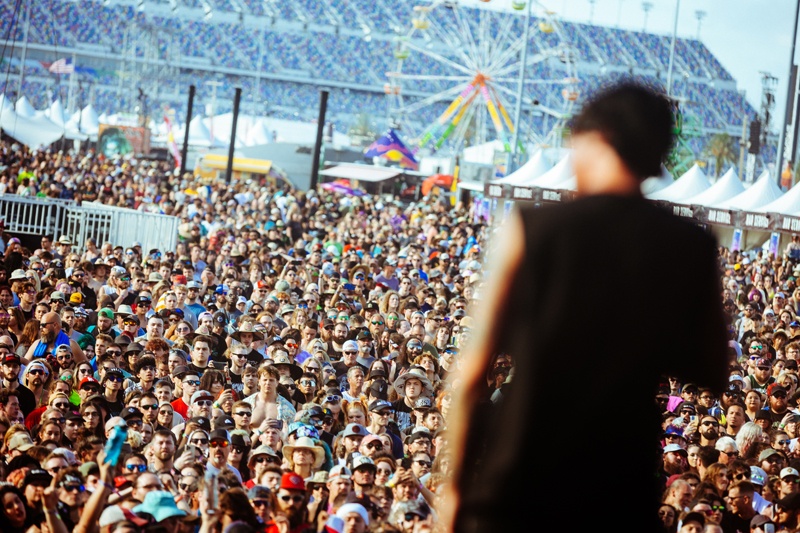 Sleeping With Sirens rocked the Octane stage with their high energy squeaking, like a puppy with an annoying toy.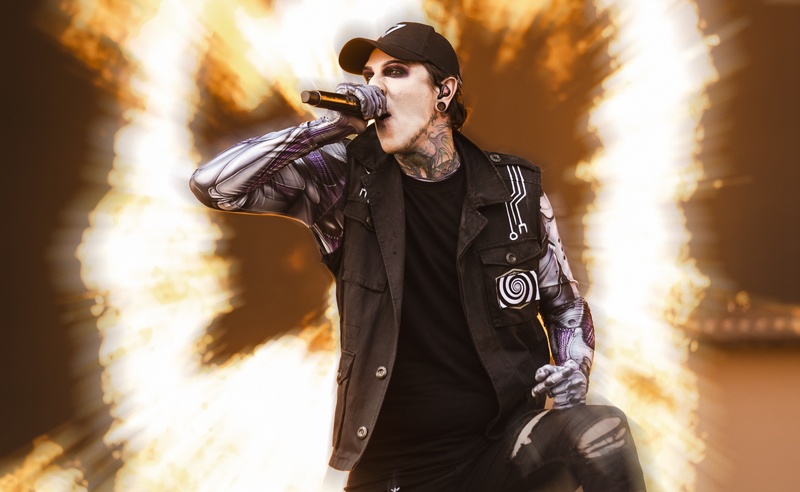 Motionless In White lit up the Space Zebra main stage, quite literally, with plenty of fire, lights and videos. This was the 1st US show of 2023 for the goth metal hit makers. They recalled playing Welcome To Rockville a lot, but this was their 1st time at Daytona. Chris Cerulli exclaimed "Welcome to watch the goth band melt in the sun show!" He thanked Florida radio and SiriusXM Octane for their 1st #1 hit "Masterpiece", which was a huge singalong. They had a guest screamer,  David Benites, on Reincarnate. They had time for 10 songs and each one got a huge reception.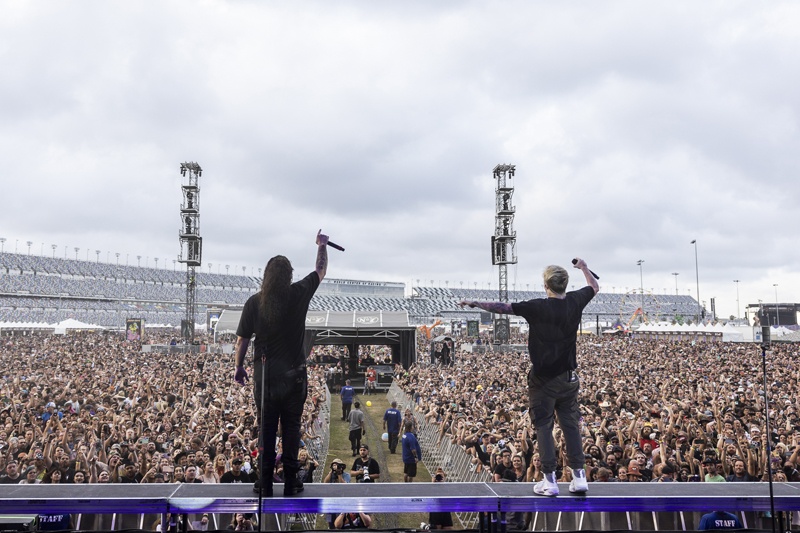 SXM host Jose Mangin had his wife Melissa Mangin introduce I Prevail on the Octane stage. Women really seem to love this band.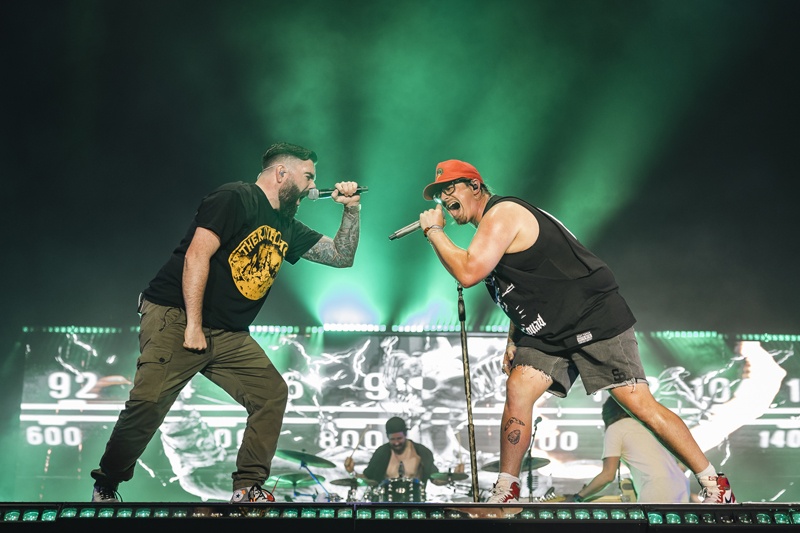 Country star Hardy played the main stage. There was some controversy about having him on the lineup. It would be interesting to see if he can win people over. The band, 2 guitarists and a drummer, came out rocking to lasers. Hardy came out looking like a yoked Kid Rock, singing "Sold Out" with the massive crowd singing along. "Kill Sh!t Till I Die" went over very well in gun loving Florida. The overall vibe was country songs with alt rock music.  Hardy played a guitar for "Jack". He told the crowd "This is our first ever rock show. We are a rock band tonight." Some of the songs echoed Green Day in sonic tone, others were metal and thrashy. The show was all rock, with smoke and lights. They did a cool cover of "Big Empty" from Stone Temple Pilots. He played his ironic "Radio Song", joined by Florida's own Jeremy McKinnon of A Day To Remember. Hardy shotgunned a beer while singing "The Redneck Song", which brought an extended "Hardy! Hardy!" chant from the crowd, and that put a huge smile on his face. He wanted to play one country song that changed his life and showed how thankful he is to live in greatest country in world. He covered Blake Shelton's "God's Country" which ended with another huge chant of "USA! USA! USA!" He finished with "The Mockingbird & The Crow. There was no doubt that he belonged at this festival.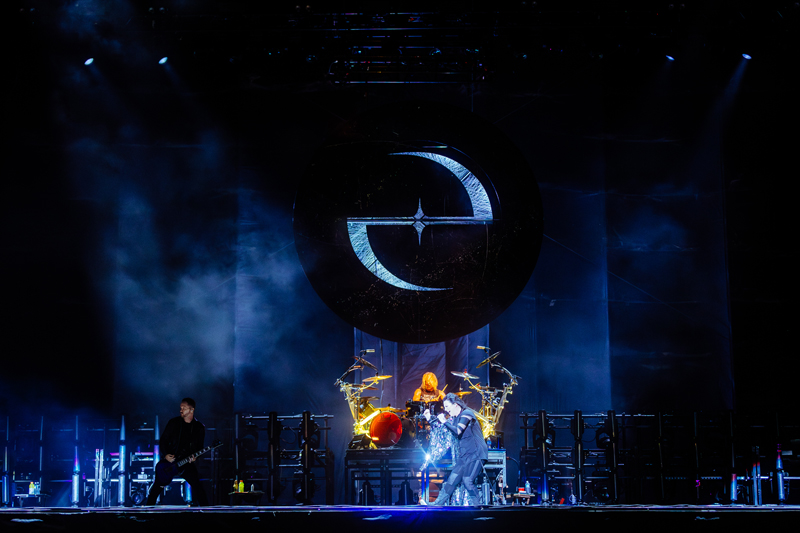 Evanescence delivered the best show of the day on the Octane stage. The band's newest member, Emma Anzai, provided angelic backing vocals and incredible bass playing. Amy Lee has so much power and emotion, even had the crowd roaring in response to an acapella whisper. Amy challenged everyone to use their voice and fight for each other and for what is right. She reminded that we are all in this together, and she hopes that love will win. For the encore, she mentioned that it has been 20 years since the "Fallen" album was released. They are still out here doing it, and having more fun than ever. Everyone sang along to "My Immortal", and attempted to keep up with her unmatched vocal skills on "Bring Me To Life".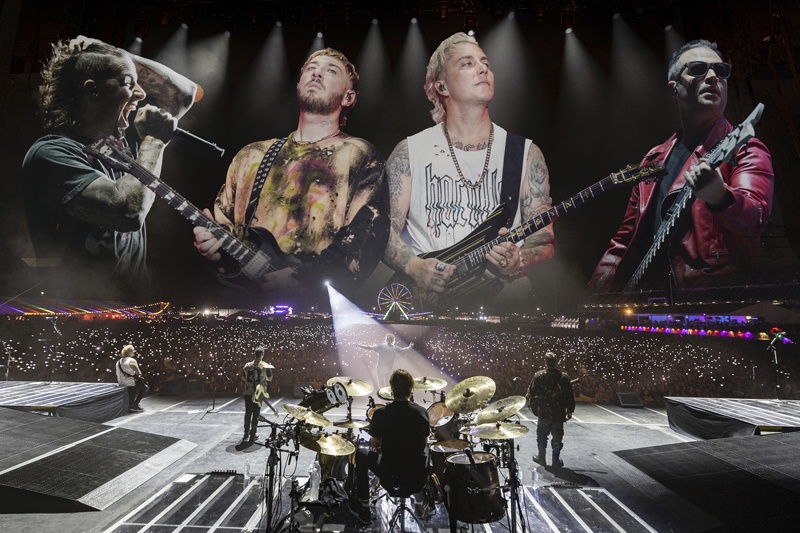 Finally, it was time for the long awaited return of Avenged Sevenfold, after 5 years away. A7x led off with a slow, weird and chaotic new song, "Game Over". They also had a weird instagram filter on the live video screens, which looked like Thanos has snapped his fingers. Then things kicked into gear when they started "Afterlife", which got the fans psyched. "Hail To The King" kept things moving along nicely. After that, M. Shadows noted that they have been gone awhile, and they have to get used to the energy brought by the crowd. He introduced another new song, "We Love You", which was frankly not good. Most people were just confused. It changed tone drastically throughout, from club pulse to acoustic slide guitar and heavy breathing. It sounded like a German Nine Inch Nails song. Shadows could sense the crowd's confusion and commented "Give it some time; you might like it some day." 
There was a huge roar as they started playing "Buried Alive". There's nothing cooler than the lefty-righty back-to-back double solos from Zacky Vengeance and Synyster Gates. Next was a touching tribute to "The Rev" in front of "So Far Away". Shadows reminded everyone to be in the present in the moment and enjoy the life you have today. Tell people you love them enjoy moments like this. Thousands put up their lighters and phones in tribute. 
A third new song, "Nobody", got the best reception, with a riff reminiscent of Alice In Chains. The rest of the set was classic A7X. Despite the set being a bit short for a headliner, and Shadows admitting that the band had a ways to go in order to return to form, it was a wonderful experience all around. Not many cared about anything else but enjoying the experience of "Nightmare", "Bat Country", "Unholy Confessions" and "A Little Piece Of Heaven". Welcome back!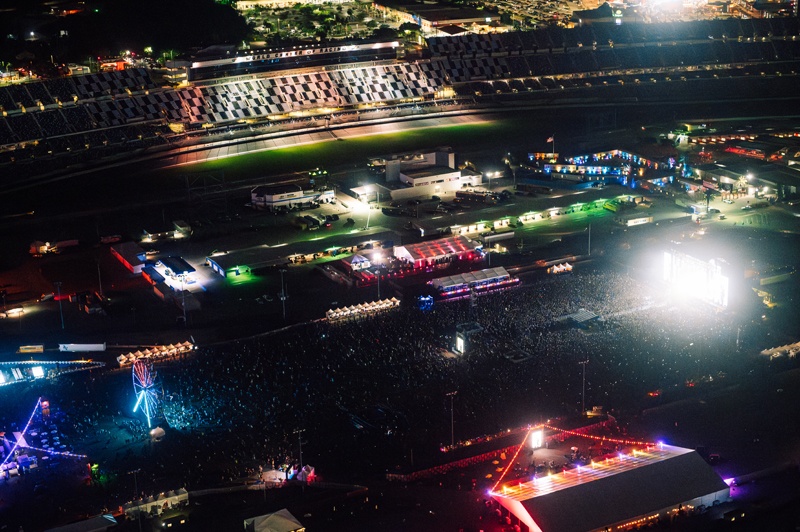 Keep up to date with the latest on future editions of Welcome To Rockville at https://welcometorockville.com/
Avenged Sevenfold Returns At Welcome To Rockville 2023 Day 2 first appeared on Game On Media.